Satit Hotel – Best budget Hotel in Dannok (Danok)
Satit Hotel, part of the Satit Group, offers stylish modern accommodation to suit every budget. A unique mixture of styles, design elements and personalised service creates a distinctive hospitality experience.
Satit Hotel is nestled in an area of Thailand known as Sadao, Songkhla. The centreof the city is just a short distance away from the airport at only a 45 minute drive. The small town that is found in the Southern Gulf Coast portion of Southern Thailand is called Sadao-Dannok. This is right on the border, where Dannok town can be found slightly south of Sadao town and around 60km away from Hat Yai. The capital of the Sadao District is Sadao Town, basically looked upon as a junction town where people will turn off of National Highway 4 as they head to Padang Besar. Dannok is an area that has grown at a tremendous rate throughout the last few years, with more and more shopping areas sprouting up for travelers to enjoy. Both sides of the high way are filled with smaller lanes of nightclubs and karaoke bars, including bargirls that are scantily dressed outside.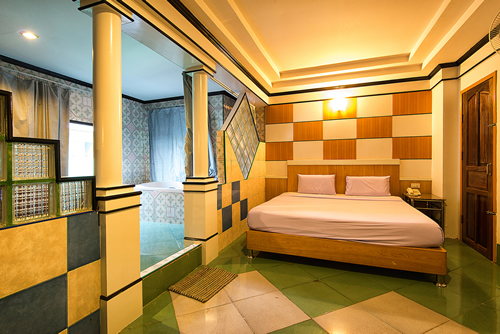 The great thing about the shops in and around Dannok is that they are interesting to look through with affordable price. If you are looking for something unique to buy as a souvenir or even if you want to have some fresh mangoes during your stay, you will be able to find it all in these shopping areas. When you want to hit a duty free shopping area, Tesco Lotus there is a complex that is right inside the Malaysian territory in between the immigration checkpoints for Malaysia and Thailand.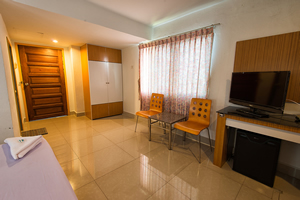 The convenient location of the hotel offers up easy access into the must see destinations in the city. Here, you will find plenty of great restaurants, entertainment complexes and bars. You will also notice that the Satit Group has incredibly clean and modern decor. The pricing is affordable, making it easy for any traveler to stay and enjoy the surroundings when they are in the area. You will also enjoy the simple fact that the hotel has facilities that will enrich your staying experience in Songkhla. The hotel features convenient elevator service, parking, Wi-Fi in all public areas, room service, front desk service on a 24 hour basis and so much more.
There are 64 bedrooms in the hotel, each are furnished tastefully with all of the modern comforts that you could ask for. There is plenty to - activities at the hotel as well as the surrounding areas.